Here's how you can make your favorite Indochinese street food at home using just a few simple ingredients.
There are many restaurants that offer spring rolls as an appetizer or snack, but you can also create this delicious dish at home. Spring rolls are a popular dish in Indochinese cuisine. These rolls are filled with a savory vegetable concoction and have a crispy, deep-fried crust. One can try these rolls with various dips and sauces. So here are some of the easiest vegetable spring roll recipes that you can make at home and enjoy with your family and friends.
1. Mix the vegetable spring rolls
Ingredients:
Maida
2 onions
1 cabbage
1 pepper
Boiled Noodles
chili sauce
Finely chopped garlic
Finely chopped ginger
Grated carrot
Oil
Salt
How to do:
1. Take a pan and add some oil to it. Leave it for a minute. Then add the chopped onions and chili sauce to the skillet. Sauté the onions for a minute.
2. Now add the carrots, cabbage and bell pepper to the pan. You can also add beans to your recipe if you want to make your spring rolls nutritious.
3. Saute vegetables until golden or crisp. You can also add soy sauce and vinegar to it if you like.
4. After mixing the vegetables, add salt, pepper, chilli powder and any other spices according to your taste. Remember not to add a lot of salt during cooking as the wrappers also contain some salt content. Turn off the heat and set the mixture aside to cool.
5. With this, the stuffing of spring rolls with vegetables is prepared. Now it's time to prepare the packaging. For wraps, take salt, maida and corn flour in a container. Add water and mix well and make a paste. Now take some dough and roll it out into circular shapes. Now put some stuffing in the wrapper and wrap it properly. Then fry it in oil until it turns golden.
2. Noodle spring roll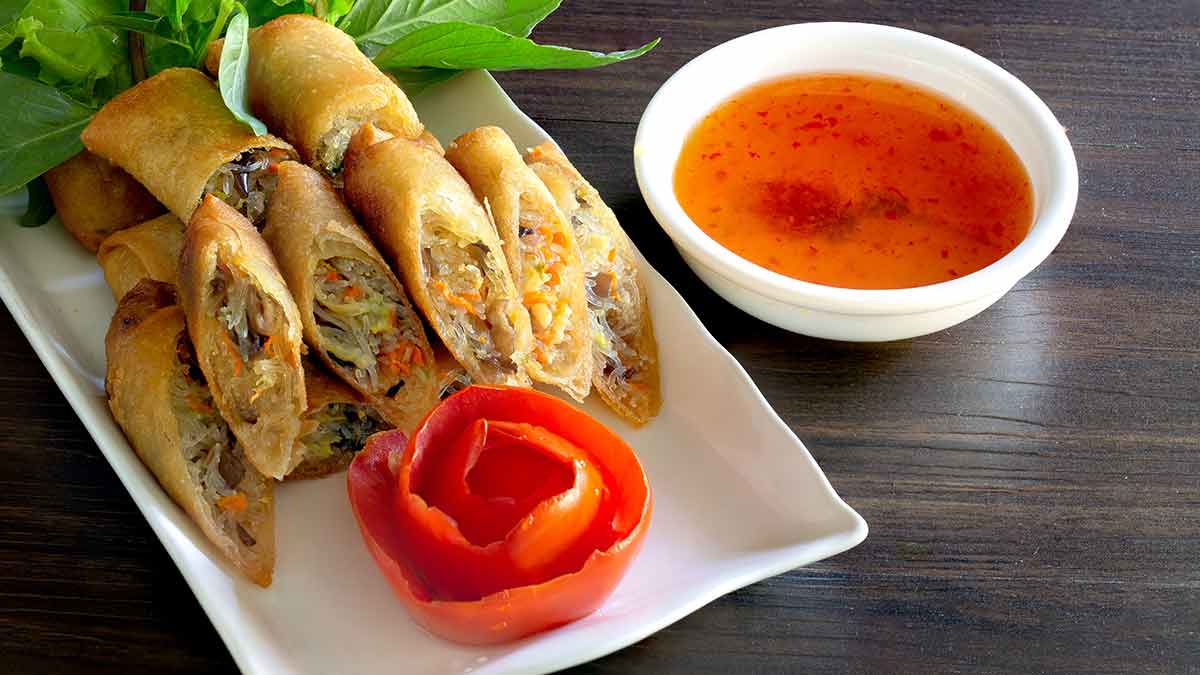 Ingredients:
1 cup of vegetables (carrots, onions, cabbage, bell pepper)
½ cup noodles
4-6 garlic cloves
2 slices of ginger
2 onions
Different sauces
Pepper
Salt
Oil
1 sprig of spring onion
How to do:
1. Heat the oil in a wok and add the garlic and ginger when hot. Sauté over high heat until fragrant. Add the onions and green peppers and sauté until the onions are almost translucent.
2. Add carrots, beans, bell pepper and cabbage and sauté for two to three minutes.
3. Add cooked noodles, soy sauce, vinegar, red pepper sauce and ketchup and mix lightly.
4. Stir to make sure the sauce coats all the noodles. Add the spring onions and toss to combine. Set aside and let cool.
5. Add one teaspoon of cornmeal and two teaspoons of water to a bowl.
7. Keep spring rolls covered with a damp cloth to prevent them from drying out and place one to two tablespoons of filling in the middle before wrapping them.
8. Start preparing the rolls and fry them in oil for six to eight minutes or until golden brown, then it's ready.
Don't Miss: 3 Healthy Chicken Salad Recipes You'll Love
3. Paneer Spring Rolls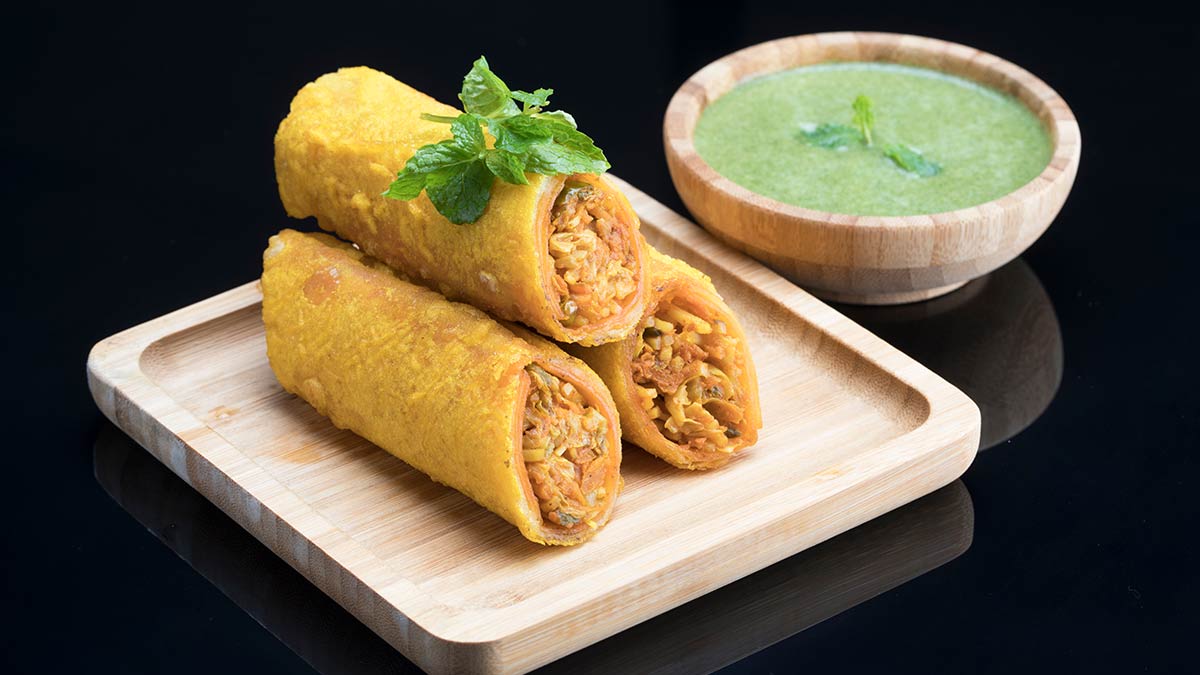 Ingredients:
2 potatoes
2 green peppers
½ cup bell peppers
2 carrots
coriander leaves
Turmeric
Cumin powder
Spring roll sheets
Maida
Salt
Oil
How to do:
1. Prepare the filling. Crumble/grate the paneer and put it in a mixing bowl. Add chopped green chillies, capsicum, carrots, mashed potato, turmeric powder, besan, red chilli powder, garam masala, cumin powder and salt and mix well.
2. Once all the paneer, vegetables and spices are combined, make a small 4-5 inch log/cylinder with the filling.
3. Take a sheet of spring rolls. Keep it in a diamond shape. Place the log of filling on one edge and bring the left and right edges together then roll with the filling inside and close the edges with maida dough.
4. Using a knife, with a quick motion, cut the spring roll in half or into small pieces.
Don't Miss: From Parineeta to Kahaani: 5 Bollywood Movies That Embrace the Spirit of Durga Pujo
5. Heat the oil in a frying pan to fry the spring rolls. Once the oil is hot, lay in four to five spring rolls and fry them over medium heat until golden brown and crispy.
Did you enjoy reading this article? Share your impressions with us on our Facebook page. For more stories like this, stay tuned to HerZindagi!
Did you like this article?