[ad_1]
I feel like I'm officially done with baking banana bread. While still very delicious, now we have time for other baking challenges and there is no better time to bake than fall. Those lovely warm and warm smells escaping from the kitchen are sure to whet the appetites of everyone in the house. These pastries are perfect for warming up after a walk among the trees that have taken on their beautiful fall color, with a carpet of crunchy leaves underfoot – it's still a pleasure, no matter what your age.
Carrot & Zucchini Squares
"A great way to add more veg to the day for everyone"
Makes 12 or 16 squares
70g grated carrot
50g grated zucchini
80g caster sugar
2 eggs
70 ml olive oil
220 g plain flour
2 teaspoons of baking powder
3 tablespoons of chopped walnuts
1 orange, zest and juice
For garnish
60g softened butter
120g icing sugar, sifted
3 tablespoons of milk
Method
Line a shallow 16cm x 25cm rectangular pan with parchment paper. Preheat the oven to 180 ° C / ventilation 160 ° C / gas 4.
For the squares, place the grated carrot and zucchini in a large bowl. Add powdered sugar and eggs, whisk until eggs and sugar are slightly foamy. Stir in olive oil. Incorporate the plain flour, baking powder and nuts.
Add the zest and orange juice and mix well. If the cake batter is still a little thick, add 1 to 2 tablespoons of milk.
Transfer the cake batter to the pan and bake for 25 minutes or until golden brown and cooked through. Insert a skewer and when removed it should be clear. Let cool on rack.
To make the filling, place the butter, icing sugar and milk in a bowl, beat with an electric mixer until a thick and smooth dough forms. This should be able to be poured into a squeeze bottle while retaining its shape. When the cake is cold, cut it into squares and using the squeeze bottle, make patterns on top of each square.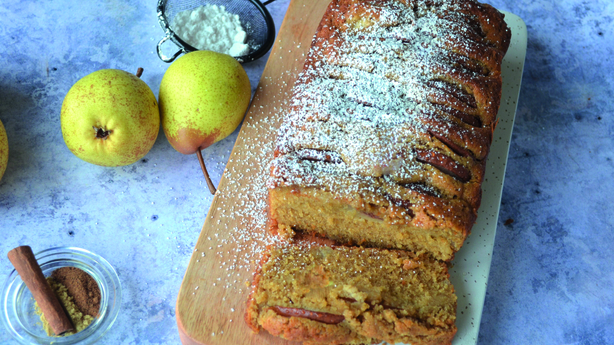 Spicy pear and almond bread
"Add 3 tablespoons of dried cranberries or sour cherries to the cake mix for a festive bread"
Makes a 900g loaf
180g softened butter
80g dark brown sugar
60g caster sugar
3 eggs
1 tsp of vanilla extract
250g plain flour
2 teaspoons of baking powder
3 tablespoons of ground almonds
tsp ground ginger
¼ tsp ground nutmeg
tsp ground allspice
120g pear, peeled and diced
50 ml of milk
2 pears, thinly sliced ​​for top
Honey, for the top
Method
Line a 900 g cake tin with parchment paper. Preheat the oven to 180 ° C / ventilation 160 ° C / gas 4.
Place the butter, brown sugar and powdered sugar in a bowl and whisk until pale and fluffy. Add the eggs and whisk until combined. Pour in the vanilla extract.
Stir in the regular flour, baking powder, ground almonds, ginger, nutmeg and allspice. Add the diced pear and enough milk to form a cake batter.
Transfer to the lined cake tin. Insert / arrange pear slices on top and bake for 45 minutes until cooked and golden. To check that the bread is done, insert a skewer and it should come out clean. Cool on a wire rack.
Sprinkle a little honey on top to give it a shine.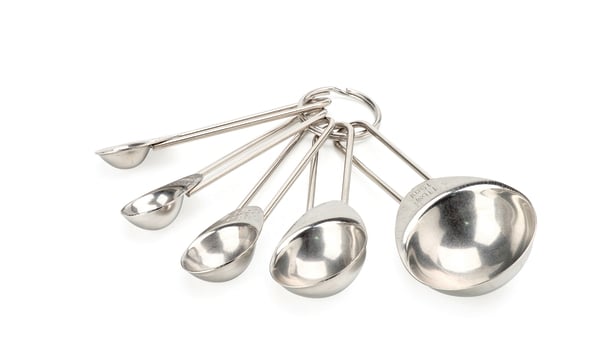 Best Cooking Tip: MEASURE!
As simple as it may sound, this is especially important in baking. Some of us get caught following American measurements, unless we actually have proper cup measurements – a cup of tea is not the equivalent.
Me personally ? I prefer the metric – it's hard to go wrong with grams, milliliters, and a set of measuring spoons.
To be precise you will need a good scale and be sure to reset the bowl once on the scale before adding any ingredients.
Digital scales are the best, but remember that you will need spare batteries as they are guaranteed to die right in the middle of baking a cake!
[ad_2]